Teaching, Leadership and Collaboration Artifacts
---
Developing and Delivering Professional Learning
My first artifact is related to developing and delivering Professional Learning, and I've positioned it first because it encompasses all three of this category's attributes: Teaching, Leadership, and Collaboration.

In the Summer of 2014 I served as a Curriculum Specialist for Teach for America's 6-week training session for new corps members in Tulsa, Oklahoma. I was hired for the summer position in February of 2014 and from February through June attended several all-staff training conferences in Oklahoma and Atlanta, in addition to working with my school site team and meeting and collaborating using technology communications tools. When June arrived, I was housed in a dorm on the University of Tulsa, Oklahoma college campus and delivered summer school instruction to new teachers at Webster high school. This position was one of the most challenging of my career, because it involved a high level of instruction over a compressed period of time in a location far from home and working with a team of extremely passionate and dedicated people I'd just met.

---
The Educational Leader at my School Site
As a curriculum specialist, my role was defined as "the educational leader at the school site." As an instructor and curriculum developer with over 15 years of experience, I joined a team of subject-specific teacher advisers, the school-site principal, and support staff. My job was to 2-4 daily (up to 12 per week) classroom training sessions to approximately 65 corps members. These instructional sessions were themed around several big ideas: Teaching as Leadership, Classroom Management, Lesson Planning, Diversity, and Assessment. Within each of these larger themes were anywhere from 3-7 "sessions" to teach in that theme, ranging from 45 minutes of delivery to 90 minutes of delivery. Beyond delivering my own sessions, I worked with my school site team to develop a mission statement, leadership roles, and made organizational decisions about the day-to-day operations of our summer school. Outside of this role, I was teamed with other Curriculum Specialists assigned to other school sites in Tulsa, and our group collaborated on curriculum and delivery methods.
The schedule and the preparation and research for the position was extremely demanding. Prior to the position I was given foundational content of over 1000 pages to edit, prepare, and practice, in addition to onboarding documents, leadership documents, and school-site, team-building papaperwork and practices. Upon arrival in Tulsa, the daily schedule included a full school day at our school sites Monday through Friday, followed by afternoon meetings with our school site team members, evening meetings with my fellow Curriculum Specialists, all-staff meetings for everyone in Tulsa, as well as one-on-one sessions with individual corps members needing help in their classroom on various topics. We started at 6am and often didn't go to bed until 1 or 2 in the morning. On the weekends we prepared our teaching lessons, met with new teachers, and attended staff meetings.
Despite these demands, and despite being at least a decade older than my fellow staff members, I was able to fit in well with my school-site team and contribute positively to our goals. As a teacher, I was able to develop and create original and engaging presentations for the new teachers at my school, while collaborating effectively with curriculum specialists from other school sites. My early challenges were managing the workload with the time available, especially in the spring training months when I was also working a full-time teaching position at Pasadena City College. Later challenges included learning how to navigate the scripted content while still being able to teach in a manner that aligned with my core values and pedagogical praxis, and working with young people who had a variety of working styles and communication methods.
---




Position Papers on Teaching and Pedagogy





The brief papers above were written in 2014 and 2015 to acclimate new instructors to the Pasadena City College STACC philosophy of teaching. STACC, a program developed and approved in 2015 as a 2-semester composition course at Pasadena City College, stands for Stretch-Accelerated Composition. This 2-course sequence was developed in collaboration with PCC faculty and administrators over the course of 5 years, and was piloted by myself and a group of full-time and part-time teaching peers who were interested in implementing foundational concepts from Arizona State University's Stretch Composition program into our composition curriculums. In the course of our research, we were introduced to Katie Hern, director of the 3CSN California Acceleration Project. Hern's ideas and her success rates in using acceleration in Writing courses inspired parts of our curriculum development, but we were additionally mentored by writer and researcher

Mike Rose

in our ongoing process about the ways we could include certain aspects of acceleration into Basic Skills writing courses while also connecting authentically and personally with our students -- teaching the whole student in context of his or her personal identity, made up of cultural, racial, class, gender, and regional experiences.

The goal of the STACC project was to offer an alternative pathway through the freshman writing sequence at Pasadena City College that might address educational inequities faced by many first generation students and underrepresented students when they reach institutions of higher education. According to the California State data tracking website, these students have lower retention rates, higher course-repeat rates, and have a generally longer time-to-degree achievement. The program we developed attempted to maintain high expectations and tries to deliver challenging, culturally relevant curriculum that is collaboratively developed, while mainstreaming basic skills students into transfer-level courses for which they receive full college credit and work at a college-level curriculum (rather than no college credit for pre-transfer level basic skills courses).

These brief papers form the foundation of my own teaching philosophy rooted in Culturally Responsive teaching, 21st century writing praxis, and a strong belief in empowering students' languages and voices. As a first-generation college student raised in Hawai'i who moved to the mainland speaking pidgin and struggling to be understood, I feel a kinship to students in similar circumstances whose cultural upbringing doesn't necessarily match up with the expectations of academic institutions. These papers are evidence of my desire to not only collaborate with other faculty and peers on cutting-edge teaching philosophies and practices, but they are also evidence of my desire to share my own experiences and leadership as someone who has crossed academic borders throughout my own schooling, and who has faced numerous challenges in my attempts to join various academic discourse communities.
---
Organizing a State-wide Conference
The document above is an outline of the Innovative Teaching for Social Justice two-day conference schedule with accompanying documents that took place at Pasadena City College in the spring of 2013. Below you will see a slideshow of participants and events.

I first conceived of the conference as an opportunity for STACC faculty to engage in conversation with state-wide and local K-12, Community College, CSU and UC educators, administrators, and students as a way to train new faculty in the STACC teaching philosophy. I brought the idea to my STACC colleagues on the development committee and we all agreed that despite limited funding and a short lead-time, it would be an invaluable opportunity to engage in important dialogue as we finalized our STACC curriculum.

Working with STACC colleagues and other PCC colleagues involved in the College 1: Pathways program, the PCC Diversity Initiative, the PCC Assessment team, as well as counselors and administrators from across campus, the conference committee developed a partnership with 3CSN and Bedford/St.Martin's to present workshops, round-table discussions, and featured speakers on issues facing faculty and students interested in developing curriculum for our Basic Skills students. The conference included a call for papers that opened the discussion to independent scholars and to students interested in presenting their own expertise on this subject to our faculty. New STACC faculty and College 1:Pathways faculty, in addition to other PCC and state-wide educators and students, attended the conference and were treated to presentations on assessment, ePortfolios for the classroom, undocumented student experiences, placement strategies for Basic Skills students, and more. The conference was an outstanding success and it was an honor to hear from and connect with faculty, administrators, scholars, and artists from across california (and a few out-of-state attendees) on the very important topics facing educators and students in the 21st century.

As a conference organizer, I not only worked with colleagues to arrange the organizational aspects of the conference (like room bookings, speaker engagements, food service, conference publicity, presenter selection and panel organization) but I also delivered professional learning to faculty in the areas of Social Justice in the classroom and shared curricular practices. In my previous position at the University of La Verne I had spearheaded a conference on Women, Gender, and Sexuality, so I was well-versed in how to collaborate with colleagues to put together such an event; however, the Social Justice conference at PCC demanded even more leadership and collaboration, as faculty were earning salary points and professional learning credit certificates by attending our workshops. The resulting conference is chronicled in the notes section of the document, and was also broadcast on social media outlets and featured in promotional documents for our school. It was an amazing experience that challenged my organizational and leadership abilities, and that improved my collaboration skills. Additionally, I was able to attend most of the conference sessions as well, and so learned a great deal about how to develop innovative pedagogical practices in my own classroom that I utilized immediate the following semester.


---
Below is a slide show of the conference and conference inspiration materials. There were so many amazing speakers, educators, counselors, high-school educators, writers, and activists at the conference. It was an incredibly humbling experience to share space and conversation about these important issues, and I'm incredibly proud of my STACC colleagues and what we accomplished at this three-day conference.
Powered by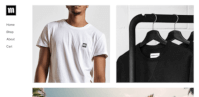 Create your own unique website with customizable templates.