Patchwork

Patchwork or "pieced work" is a form of needlework that involves sewing together pieces of fabric into a larger design. The larger design is usually based on repeating patterns built up with different fabric shapes (which can be different colors). These shapes are carefully measured and cut, basic geometric shapes making them easy to piece together. (from wikipedia)
The Modernist Method
"How effectively can a literary work communicate when it abandons the traditional techniques like narrative or linear argumentation for lyric methods of indirection, allusion, and symbolism?" --Ezra Pound


WHAT IS A POEM
"I propose sweeping changes from top to bottom of the poetic structure. I said structure. So now you are beginning to get the drift of my theme. I say we are through with the iambic pentameter as presently conceived, at least for dramatic verse; through with the measured quatrain, the staid concatenations of sounds in the usual stanza, the sonnet. More has been done than you think about this through not yet been specifically named for what it is. I believe something can be said. Perhaps all that I can do here is to call attention to it: a revolution in the conception of the poetic foot -- pointing out the evidence of something that has been going on for a long time." -- William Carlos Williams, "The Poem as a Field of Action"

Powered by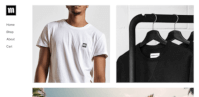 Create your own unique website with customizable templates.