ENGL 4379: Modern and Contemporary Poetry
Graduate Students at CSULA are invited to take one or two senior-level undergraduate courses in areas of interest. This semester, Prof. Lauri Ramey taught Modern and Contemporary Poetry.



COURSE DESCRIPTION
ENGL 4639 Modern and Contemporary Poetry
"We will study the poetry of the modern and contemporary periods (from the start of the 20th century to the present) from critical, cultural, political, historical, and formal perspectives. While including some well-known figures, the course will draw attention to the multicultural, global, marginalized, and progressive poets and movements that are too often and unjustly overlooked. While our main focus is Western modernism and postmodernism, our outlook and curriculum will interrogate and transcend national, linguistic, and geographical borders. The final curriculum will reflect the class's interests and experiences." - Syllabus, Prof. Lauri Ramey


​

STUDENT LEARNING OUTCOMES:
Students will:

Develop their own well-informed and substantiated picture of the characteristics and significance of the modern and contemporary periods;

Gain familiarity with a diverse range of poets and poetry which both reflect and helped form these eras;

Articulate their visions of modern and contemporary poetry through assigned readings, class attendance, and thoughtful completion of assignments;

Take responsibility for being invested in some of the larger issues entailed in this course, such as the purpose and the meaning of poetry to individuals, societies, communities, and nations during these eras;

Progress in skills of critical thinking, writing, and research relating to modern and contemporary poetry, and reflecting the broader context of current topics in literary studies.

Patchwork Project Assignment

"Your Patchwork Project should reflect most (not necessarily all) of the texts on our syllabus. It should demonstrate critical thinking, skillful use of research, and MLA citations, and may also use creative approaches. The length and focus of each 'patch" is up to you, and so is the overall design and purpose of the patchwork project. As long as you fulfill the course goals described on the syllabus, your patchwork project will be successful. There are many ways to achieve these goals: above all, you are encouraged to plan a project that is of interest to you.

Your patchwork project may have a single theme or approach which is applied to all assignments and patches. you may do something completely different for each patch and reading assignment. It is highly recommended to include a summary at the end of your patchwork project which "stitches together the patches" by explaining what you learned and achieved. Lengths will vary because approaches will vary, but your patchwork project should represent the equivalent size, time, and effort that you would expend in any upper division English course. Please remember that this learning experience is intended to be fun and truly of interest to you. You may also use the opportunity to learn a new skill or try something you've wanted to do but not had the opportunity. You have the safety net of my approval and consistent support through working together, and by [putting together a project plan and a midterm progress review]. " -- Patchwork Project Handout, Prof. Lauri Ramey

Powered by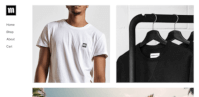 Create your own unique website with customizable templates.