Curriculum Innovation & High Expectations
---
It's not always easy to "start a movement" in your classroom or on your campus. You need to inspire your students and your colleagues in a way that builds trust and engenders collaboration and mutual respect. Students and colleagues must be active and engaged participants in the pedagogical process.



Having high expectations for students isn't always a shared mindset at every educational arena. Students themselves may have a skewed view of their own abilities to reach groundbreaking results, and fellow colleagues may have trepidations about curriculum innovation for a variety of reasons, so engendering support in attempting another new idea, or developing another new program, or employing another new tactic to develop practices that support the success of our students can be challenging. But if we are to practice teaching with a pedagogy of hope, as bell hooks says, then it is vital that we move through that fear " towards a process that brings us closer, that gives us a world of shared values, of meaningful community" (hooks). It is in this space we are able to champion high expectations and meaningful curriculum innovation.
The artifacts shared here are examples of attempts to develop meaningful curriculum innovation rooted in high expectations of students' abilities in writing, critical thinking, and community service and collaboration. Each artifact is an attempt at developing a meaningful and engaging learning experience for students that enriches their educational journeys and empowers their ideas about what they're capable of. Many of these innovations were developed in collaboration with colleagues, or were informed by deep and meaningful curriculum work by my peers.
Powered by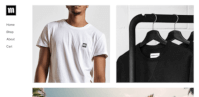 Create your own unique website with customizable templates.