Classroom Community & Kinship: Teaching and working through relationships
---
bell hooks' texts Teaching to Transgress and Teaching Community: A Pedagogy of Hope and Jill Dolan's text Geographies of Learning have been important mentor texts in my development as an educator and as a collaborator. Additionally, my varied educational training and work experience in a variety of allied disciplines including composition, directing, performance, theater, psychology, mindfulness, yoga, and creative writing have lent foundational practices to my presence in the classroom and in my collaborations with colleagues, some of which are rooted in Augusto Boal and Paolo Freire's work with Theatre and Pedagogy of the Oppressed.


I have a strong belief in the power of words to shape and develop our thinking processes. I believe that everyone should be a writer. When I meet new students, whether in a workshop of adults who want to write poems, or a high school classroom of literature students, or a group of professionals building new curriculum, what I see and hear is a desire to tap into their authentic selves -- and a desire for this authentic self to be seen and embraced by the world. Writing has the power to accomplish this.
The artifacts I share here are examples of how I've practiced using my authentic identity in my classroom and collaboration practices in order to foster connection between myself and my students and colleagues, my students and their peers, us and our world. Deep empathy, risk-taking, vulnerability, authenticity, mindfulness, and a social equity praxis drive what I do in the classroom and in my personal and professional relationships. What I've learned over the years is that teaching and collaboration require a high level of vulnerability and risk-taking from all parties: the educator and the students/collaborators. Teachers must require of themselves the same things they're asking of their students and their peers if they want to develop a coalition of like-minded individuals full of drive and passion toward the achievement of high-minded, shared goals.
Powered by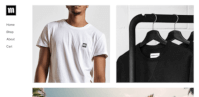 Create your own unique website with customizable templates.